upwards ... irresistibly ... into the heavens. Flying
past the planets, the stars, galaxies blur by ... ever
onward. Discovering their infinites, exploring their wonders,
their boundaries ... learning their secrets ... treasures, &
somehow, along the way, ennobled, & at the journey's
end ... the gift of wisdom ...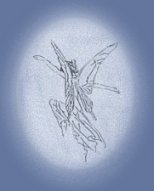 From the Harbors of Light Collection: Inspirational writings, thoughts for the day, meditations,
poetry and prose from Brad Kalita, founder of Gathering Light ... a retreat.
Inspirational Writings & Original Music
with Scenic Highlights.
Available only with Internet Explorer.
Music ~ Sacred Passage ~ by Brad Kalita, author, composer
and founder of Gathering Light Retreat.
Spirited Visionary Dreamscapes ~ Return to the Journey with Me ~ Fairy Dust.